Southeast Asia e-commerce picture
In the dynamic world of digital commerce, there's no place as exciting as Southeast Asia, where the online consumer base grew by 50% and market size reached $13 billions of dollars compared to last year. Internet research and development has seen a boom in the Southeast Asia region as data indicates that the internet-based economy is expected to hit at least $88 billion in the next 7 years (Figure 1)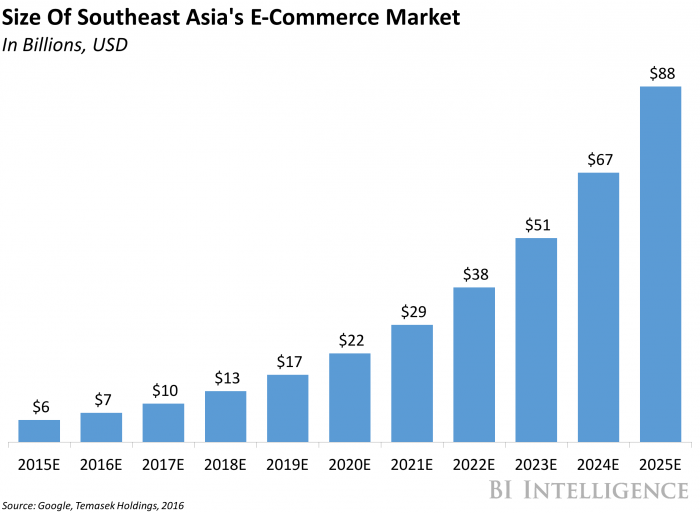 In this spirit of rapid development, Southeast Asia has been a launching point for numerous e-commerce companies that are spurring the thriving trend of social commerce. Not surprisingly, we are witnessing the heat from the race as the fierce competition among investors is going on nonstop.
In the context of globalization, cross-border selling is an important channel to approach international buyers. However, there are still barriers holding up the growth of cross-border e-commerce that entrepreneurs fail to solve.
Challenging Problems
First and foremost, Logistics Management is a major issue.
As E-commerce business grows and the number of orders increases, seller have to put more efforts in managing the goods, ensure to deliver products to customer on time. However, the trouble begins when merchants must balance between marketing and sales activities while managing inventory.
In fact, many Southeast Asia e-commerce websites face issues with picking and shipping. The most common problems, for example, Mispick – when you select the wrong product for an order and Mis-ship – when the wrong item is sent to a customer. There is also damaged item in transport which is unusable by the time it reaches the customer. The reason for that is e-commerce store owners, especially SME (Small and Medium Enterprise) have a lot of tasks to handle, shipping issues and inventory problem could be a hassle. Consequently, these could lead to sale reduction and poor consumer satisfaction. When angry customers write bad feedback, it will discourage potential sales from other buyers.
Secondly, there are Issues related to regulation. Each country has their own rules and regulation for trading or import and export. For instance, you may fall into a legal trouble if you ship goods to a country where the product does not meet the required regulations (food, alcohol, weapons etc). As a cross-border seller, you will have to comply with the regulatory bodies in order to face the challenges of selling internationally.
Another barrier in cross-border e-commerce is Payment Methods and Processing. This has always been a complicated process when oversea sellers need to deal with parcel tracking, complex currency rates, customs tax and also returned order management. Online payment methods are popular with developed countries but many regions in the world still only accept CoD payments because of their trust in product quality and convenience of cash. If merchants do not have many experiences in the field, this could be a pain in the neck.
With Boxme's Ultimate Cross-docking Solution, problems solved!
Boxme Global provides A to Z fulfillment service to support cross-border selling for Southeast Asia and international seller, especially on the global e-commerce platforms such as Shopify, Amazon, Magento, etc.
Why all the fuss when we can solve your problems effectively with our professional and experienced team in the quickest time? Here are some advantages of our optimized cross-docking solution:
Faster delivery time
If you choose delivery service by general shipping companies, like it or not, sometime you will face the delay and dissatisfaction from partners and customers. The transit time from warehouse to other countries normally takes from 15 to 30 days, and you also know that customers do not want to wait. With cross-docking service from Boxme, international shipping takes only 7 – 10 days, depending on country, region and shipping volume. In addition, Boxme supports the seller to manage and track orders quickly and effortlessly in Website and Mobile app.
No intermediary transfer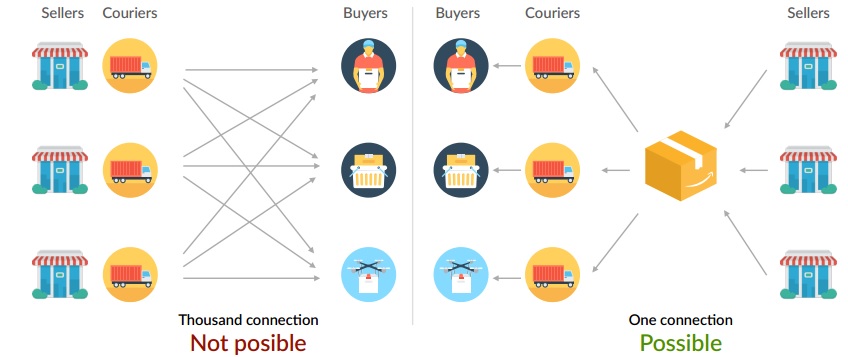 Unlike conventional shipping services, Boxme's cross-docking service has a fully optimized transport process. In detail, Boxme receives goods from retailers, carefully pack and label in our warehouses then deliver to countries around the world. This helps to minimize the risk of loss and damage shipment due to multiple intermediations and transportations.
Simplify workload with one-step process:
Now sellers can simplify global sales process with Boxme Global's API tool. In particular, Boxme has linked with various e-commerce platforms such as Amazon, Shopify, Ebay which allows you to create shipping orders in no time. When the order is generated and the company creates the form on its online store, Boxme will analyze, process and deliver as your request. You only need to focus on marketing and expanding your business, leave the knotty part for us.
Widespread warehouse network
Currently owning multiple warehouses in Southeast Asia and large source hubs in China and United State, Boxme is ready to give you a big support in doing global business. Whether you're a startup with 50 orders per month or 5,000 orders per month, we offer an affordable solution without any long-term storage fees.
Our warehouses follow a common standard of storage. All of your products are under 24h security monitoring to ensure safety and quality. Boxme also provides air-conditioned room to keep some special goods under customer's requirement.
If you have warehouse but do not have e-warehouse management system for e-commerce, we can also provide you our cloud-based proprietary warehouse management system (WMS) which is connected with our thousand global brands/SME sellers.
Cost savings compared to traditional carriers
The advantage of Boxme's cross-docking service is the highly discounted shipping rates depending on the cargo volume. We also offer a various choice of couriers to help you reduce international and domestic shipping costs.