Boxme always wants customers to feel safe when using our service so we strive every day to optimize the operation process of our service. For the convenience of sellers, Boxme would like to inform customers our service agreement in 2023.
1. Operating Criteria of E-commerce platforms in Vietnam
To achieve high business efficiency on e-commerce platforms, sellers need to understand the criteria for operating e-commerce platforms such as:
Cancellation rate
Package not ready (PNR)
Shipped on time (SOT)
Fast Fulfillment Rate
Return Rate
Priority shipping rate
Each e-commerce platform such as Shopee, Lazada, Tiktokshop, or Tiki has its own operating criteria. To catch up with the operation and fulfillment time to have the most suitable retail strategy, the seller can base on the bellow chart.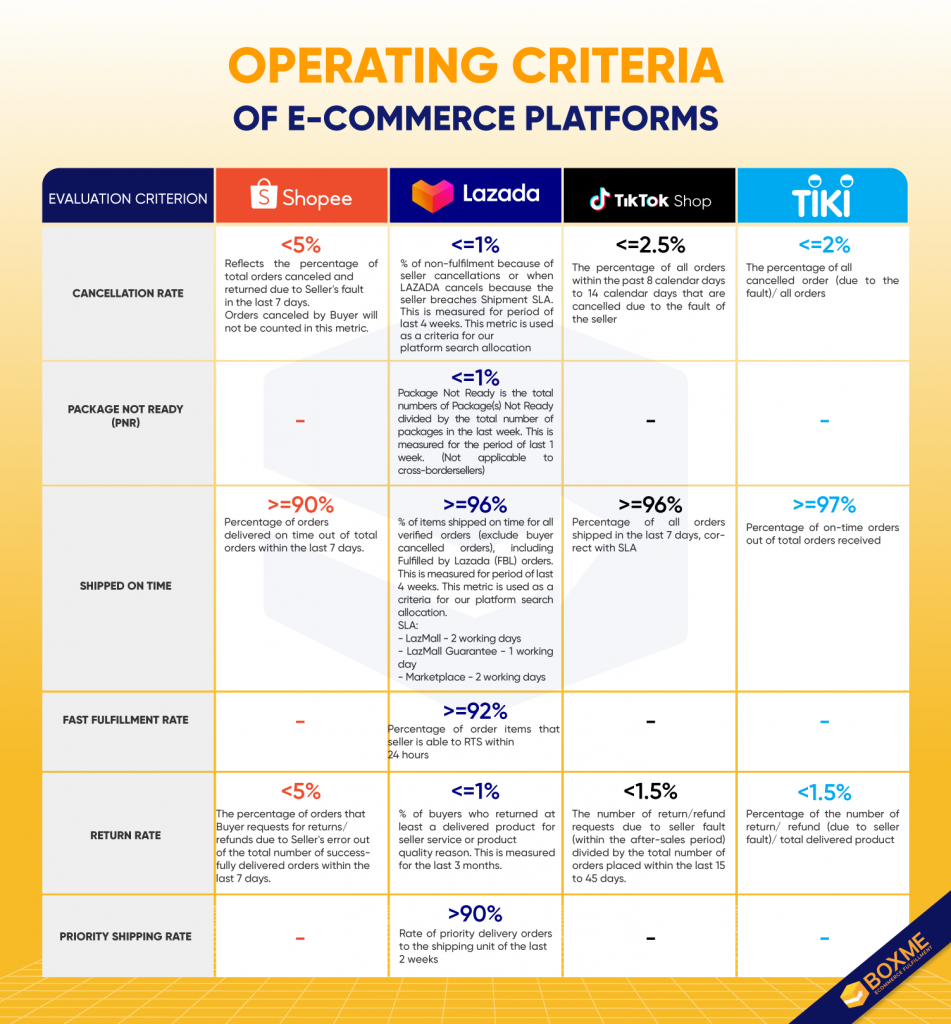 2. Boxme Service Agreement
Since February 2023, Boxme will apply a new Commitment to services: Outbound, inbound, inventory management, and order fulfillment quality.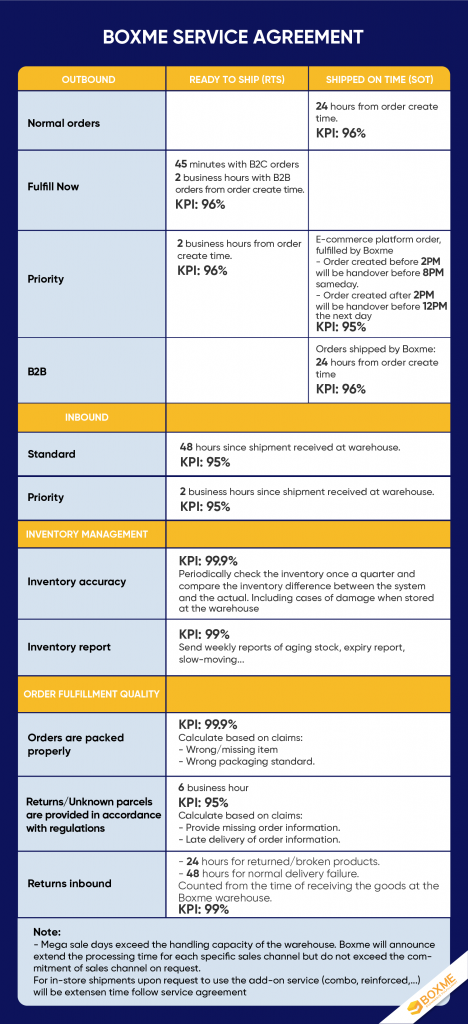 I. Outbound
Normal orders: Boxme commits packing in 6 business hours from order create time and shipped on time in 24 hours from order create time.
Fulfillnow: Boxme commits packing in 45 minutes with B2C orders and 2 business hours with B2B orders from order create time.
Priority: Boxme commits packing in 2 business hours from order create time. If orders are created before 2PM, Boxme will hand over before 8PM the same day. If order are created after 2PM, Boxme will hand over before 12AM the next day.
B2B: Boxme commits packing in 6 business hours from order create time and will hand over 24 hours from order create time.
II. Inbound
For products requiring special storage conditions beyond our capability or smuggled goods, goods with no clear origins, goods that are not licensed by regulatory authorities, we reserve the right to refuse to store these products.
Goods will be loaded into Boxme's warehouse within 48 hours since the shipment status is changed to "Received at the warehouse" .
For bulky, specific products that require special support, please contact our sales department or send inquiries to [email protected] for support.
III. Inventory Management
Inventory Accuracy: Periodically check the inventory once a quarter and compare the inventory difference between the system and the actual. This is including cases of damage when stored at the warehouse.
Inventory Report: Boxme will send inventory reports of aging stock, expiry reports, and slow-moving once a week.
IV. Order fulfillment quality
Orders are packed properly: Boxme's KPI will calculate based on wrong/missing items and wrong packaging standard.
Returns/Unknow parcels are provided in accordance with the regulations: Boxme will calculate based on claims such as: providing missing order information or late delivery of order information
Returns inbound: Boxme will handle problem in 24 hours
3. Conclusion
Boxme always makes constant efforts to improve service quality, applies automatic indexing systems to fully transparent the operation process, and listens to suggestions from customers.
In 2023, in addition to announcing a new service performance index, we will apply ISO 9001 standards and processes to ensure stable and seamless operation for customers.
Read more blogs about Boxme:
Boxme Official Launches New Warehouse In Binh Tan, Ho Chi Minh City
About Boxme: Boxme is a leading logistics service provider supporting e-commerce sellers in Southeast Asia, helping to deploy a series of online sales campaigns for more than 600 typical brands in the region such as Tefal, Panasonic, AHC, etc. Merzy, Colgate, Highland…