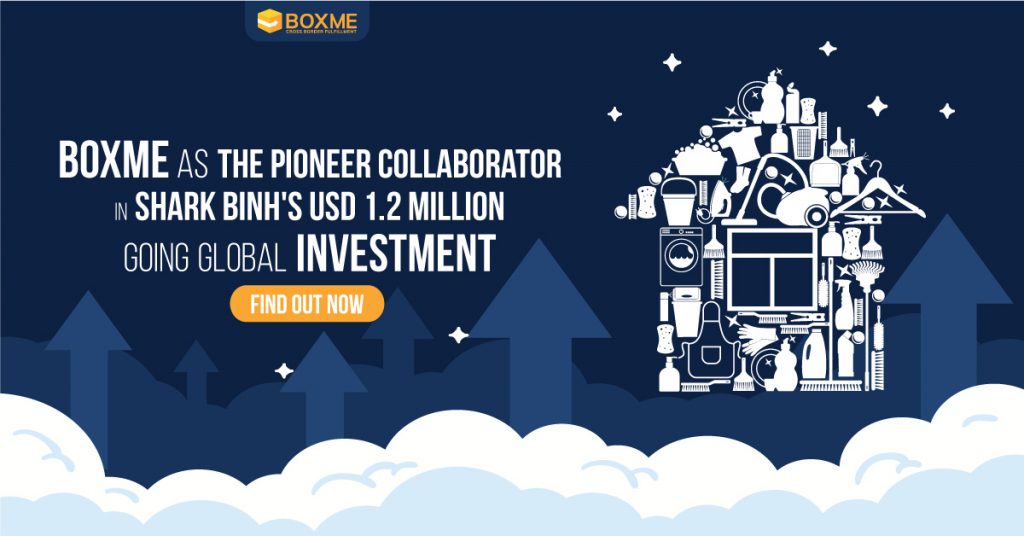 In the reality television show Shark Tank Vietnam, Shark Nguyen Hoa Binh has poured an investment of USD 1.2 million to Perfect – a Vietnamese home appliances company that has only been established for 4 years.
As a company in the Nexttech ecosystem of Shark Hoa Binh, Boxme Global has become the pioneer in assisting Perfect in expanding to new markets such as Indonesia and Thailand besides global shipping.
The USD 1.2 million deal
Perfect is probably not an unfamiliar brand to Vietnamese consumers with the extremely popular "ab wheel" product that once stormed both Vietnam and the international market in the 2000s. However, with only one outstanding product, Perfect couldn't find its own way after the fever of the exercise machine died down and went bankrupt shortly after.


With the dream of rebuilding the family career from scratch, Mr. Nguyen Dinh Minh – the son of the president of Perfect Company, has restored the brand name with a completely new identity in 2016. Becoming a research, manufacturing and distribution company of household and kitchen appliances, Perfect has launched many successful products such as oil-free fryer, black garlic making pot, power washer, etc. With a revenue of VND 52 billion in the first 6 months of 2019, business efficiency accounted for 8-9% of total revenue, Perfect is confident that the company can reach the milestone of VND 1,000 billion in revenue within the next 5 years.
Coming to Shark Tank Vietnam – a famous capital raising program, Mr. Nguyen Dinh Minh hopes to raise USD 1.2 million in exchange for a 15% of his company for the purpose of expanding the business nationwide and entering the Southeast Asia market. Recognizing the potential development of the company, Shark Hoa Binh – one of the 5 investors expressed his desire to help the company through credit loans in exchange for a share of profit.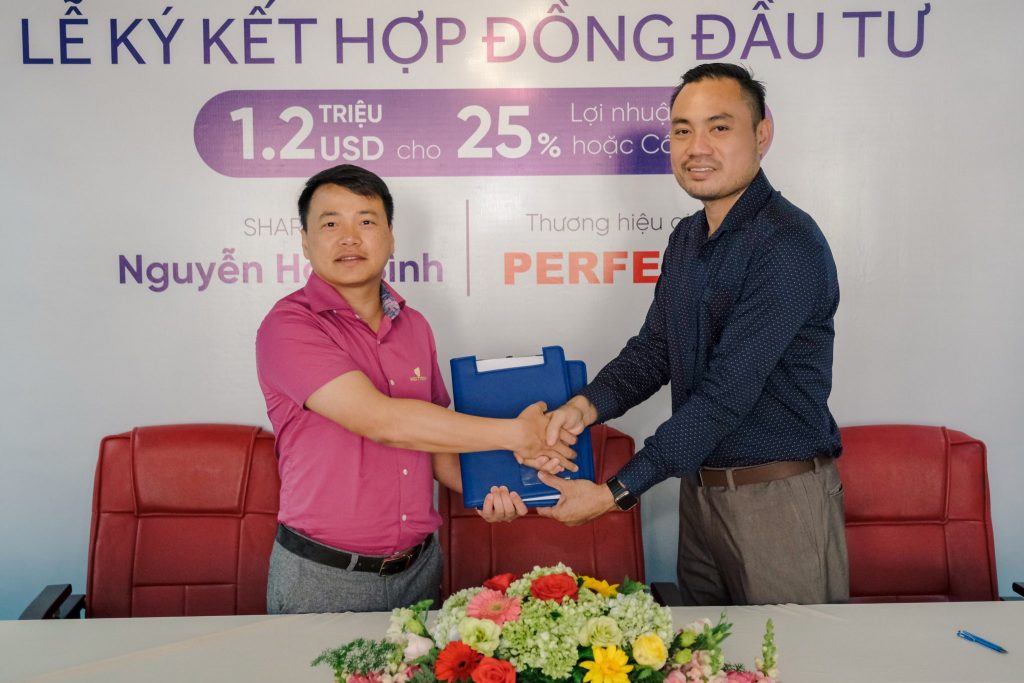 In the end, Shark Hoa Binh and Perfect Company came to an agreement to invest USD 1.2 million for an annual share of 25% profit in 10 years. Just 48 days after broadcasting, the contract was officially signed, marking one of the fastest investment deals in the history of the Vietnamese Shark Tank program. At the same time, Nexttech's Startup support program "Led by Vietnamese" was also launched with the objective of bringing Vietnamese elite products to the world, starting from the two countries of Myanmar and Indonesia in the Southeast Asia region.
Boxme Collaboration

In the Perfect project, Boxme will support the transportation of Perfect's goods to the domestic and global distribution network with optimal costs through warehousing systems in Southeast Asia and partnership with shipping couriers.
In addition to logistics support, Boxme also provides the Netsale drop-shipping business platform – an automated bridge that connects sellers to e-commerce platforms, suppliers and shipping couriers from China and Southeast Asian countries. Especially, with the Netsale Supplier program, Perfect can become a major product supplier to the seller community across the region.
This is a strategic launch pad, saving time and money for businesses wishing to enter the international playing field.
Who is Shark Hoa Binh?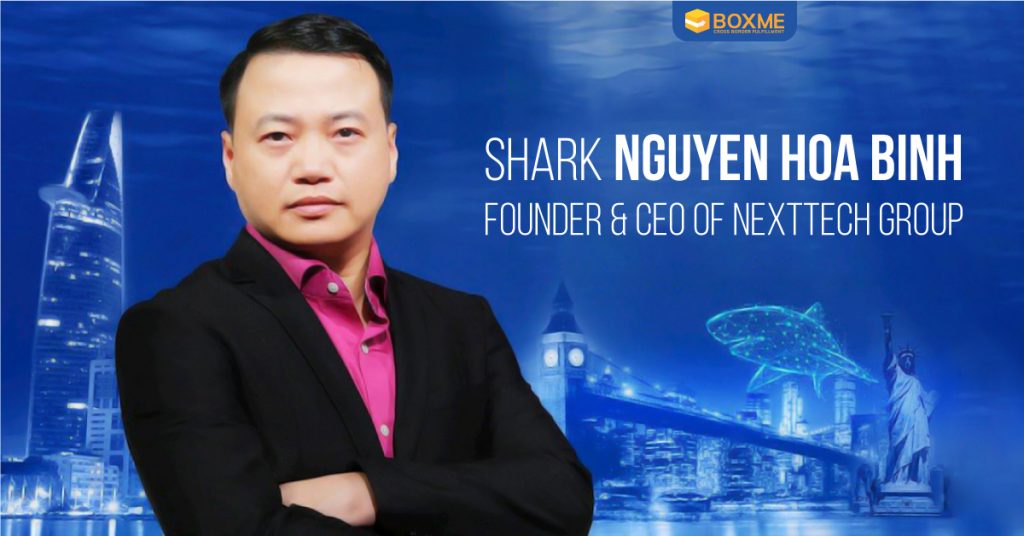 Founder and CEO of Nexttech Asia, Mr. Nguyen Hoa Binh owns many famous brands in the technology field such as mPos, Vimo, Boxme, FastGo, etc. Nexttech currently has 2,000 employees in 8 countries across Southeast Asia with a total annual electronic transaction value estimated at 3 billion USD. Once compared by Technode as "Vietnam's Alibaba", Nexttech is ranked among the top 10 enterprises with the most influence on the development of the Internet in the past 10 years in Vietnam.
The Next100 fund with a scale of 10 million USD was established by Nexttech Group this year, operating with the goal of accompanying Vietnamese startups in the development process.
->> See also: E-commerce: now the largest Internet economy sector in Southeast Asia
[vc_separator color="orange" align="align_left" style="dashed"][vc_column_text]
BoxMe is the premier cross-border e-Commerce fulfillment network in South East Asia, enabling world-wide merchants to sell online into this region without needing to establish a local presence. We are able to deliver our services by aggregating and operating an one-stop value chain of logistic professions including: International shipping, customs clearance, warehousing, connection to local marketplaces, pick and pack, last-mile delivery, local payment collection and oversea remittance.
If you have any question about Boxme Asia or how we can support your business, please contact us directly by referring to our hotline. We are glad to be of service![/vc_column_text]
[vc_raw_js]JTNDJTIxLS1IdWJTcG90JTIwQ2FsbC10by1BY3Rpb24lMjBDb2RlJTIwLS0lM0UlM0NzcGFuJTIwY2xhc3MlM0QlMjJocy1jdGEtd3JhcHBlciUyMiUyMGlkJTNEJTIyaHMtY3RhLXdyYXBwZXItYTkxNTk3YzUtMzU5ZC00ZjcxLTlhMTctMDJiNzUwMWVmYWRjJTIyJTNFJTNDc3BhbiUyMGNsYXNzJTNEJTIyaHMtY3RhLW5vZGUlMjBocy1jdGEtYTkxNTk3YzUtMzU5ZC00ZjcxLTlhMTctMDJiNzUwMWVmYWRjJTIyJTIwaWQlM0QlMjJocy1jdGEtYTkxNTk3YzUtMzU5ZC00ZjcxLTlhMTctMDJiNzUwMWVmYWRjJTIyJTNFJTNDJTIxLS0lNUJpZiUyMGx0ZSUyMElFJTIwOCU1RCUzRSUzQ2RpdiUyMGlkJTNEJTIyaHMtY3RhLWllLWVsZW1lbnQlMjIlM0UlM0MlMkZkaXYlM0UlM0MlMjElNUJlbmRpZiU1RC0tJTNFJTNDYSUyMGhyZWYlM0QlMjJodHRwcyUzQSUyRiUyRmN0YS1yZWRpcmVjdC5odWJzcG90LmNvbSUyRmN0YSUyRnJlZGlyZWN0JTJGMjE0MTUyOCUyRmE5MTU5N2M1LTM1OWQtNGY3MS05YTE3LTAyYjc1MDFlZmFkYyUyMiUyMCUzRSUzQ2ltZyUyMGNsYXNzJTNEJTIyaHMtY3RhLWltZyUyMiUyMGlkJTNEJTIyaHMtY3RhLWltZy1hOTE1OTdjNS0zNTlkLTRmNzEtOWExNy0wMmI3NTAxZWZhZGMlMjIlMjBzdHlsZSUzRCUyMmJvcmRlci13aWR0aCUzQTBweCUzQiUyMiUyMHNyYyUzRCUyMmh0dHBzJTNBJTJGJTJGbm8tY2FjaGUuaHVic3BvdC5jb20lMkZjdGElMkZkZWZhdWx0JTJGMjE0MTUyOCUyRmE5MTU5N2M1LTM1OWQtNGY3MS05YTE3LTAyYjc1MDFlZmFkYy5wbmclMjIlMjAlMjBhbHQlM0QlMjJMZXZlcmFnZSUyME91ciUyMFNvbHV0aW9uJTIyJTJGJTNFJTNDJTJGYSUzRSUzQyUyRnNwYW4lM0UlM0NzY3JpcHQlMjBjaGFyc2V0JTNEJTIydXRmLTglMjIlMjBzcmMlM0QlMjJodHRwcyUzQSUyRiUyRmpzLmhzY3RhLm5ldCUyRmN0YSUyRmN1cnJlbnQuanMlMjIlM0UlM0MlMkZzY3JpcHQlM0UlM0NzY3JpcHQlMjB0eXBlJTNEJTIydGV4dCUyRmphdmFzY3JpcHQlMjIlM0UlMjBoYnNwdC5jdGEubG9hZCUyODIxNDE1MjglMkMlMjAlMjdhOTE1OTdjNS0zNTlkLTRmNzEtOWExNy0wMmI3NTAxZWZhZGMlMjclMkMlMjAlN0IlN0QlMjklM0IlMjAlM0MlMkZzY3JpcHQlM0UlM0MlMkZzcGFuJTNFJTNDJTIxLS0lMjBlbmQlMjBIdWJTcG90JTIwQ2FsbC10by1BY3Rpb24lMjBDb2RlJTIwLS0lM0U=[/vc_raw_js][vc_row][vc_column][vc_column_text][/vc_column_text][/vc_column]