The partnership signing ceremony between Boxme and 4PX in Hanoi, Vietnam
On December 17, Boxme Global and 4PX officially signed a strategic partnership agreement, opening up countless opportunities in the cross-border logistics sector in the Southeast Asia region. The partnership includes:
Worldwide drop-shipping solution

Worldwide fulfillment solution

Cross-border transportation solution
With this cooperation, two companies share the vision of becoming a connecting hub for international sellers to penetrate the Southeast Asian market easily and vice versa.
->> Read more: E-commerce: now the largest Internet economy sector in Southeast Asia
Targetting an international market is always a major concern for brands that want to scale up their business, let alone individual sellers. It is reported by Boxme that for a company to start a new business in Vietnam in a traditional way, they normally spend from $300,000-500,000 in the first 1-3 months for market entry, logistics, marketing and sales,… without any guaranteed success. This is not to mention the time for preparation and research ranging from 6 months to a year. Moreover, for most international brands, Southeast Asia is considered a combination of small markets, which makes entering each market costly and time-consuming. Thus, this potential market is usually left out by brands.
With these insights in hand, Boxme Global has spent 4 years to develop a warehouse system that connects with almost all major shipping couriers, creating a well-rounded shipping gateway in the region. More importantly, the Boxme system also integrates local sales channels to automate the order handling process, which makes penetrating the Southeast Asia market a lot easier.
On the other hand, through the strong grasp of each market's characteristics, Boxme extends the solution by offering a brand new dropshipping platform. In June 2019, Netsale was launched as the premier dropshipping solution in Southeast Asia, acquiring more than 11,000 users in only six months. With Netsale, any individual can access international product sources from suppliers in China and across the region to enter the E-commerce market anytime, anywhere. The partnership with 4PX will assure a seamless dropshipping line between China and Southeast Asia, given that 4PX is the top cross-border fulfillment provider in China.
In addition, one of Boxme's main objectives in the 4PX partnership is building a cost-efficient transportation line from Southeast Asia to the world, with the US as the primal focus. Using Boxme's extensive logistics network in Southeast Asia and 4PX's existing China-US transportation line, Southeast Asian products can enter the US market easily. Products from Boxme clients will be shipped to 4PX's fulfillment hub in China, which will then be processed and delivered to the US.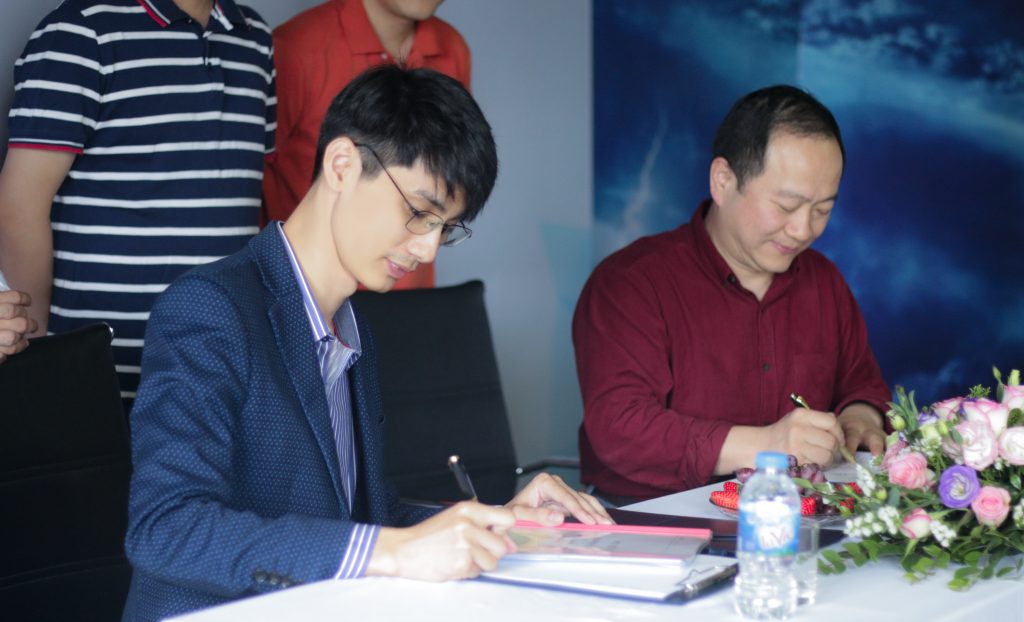 Mr. Han Van Loi – CEO of Boxme Global and Mr. Kevin Li – Founder and Chairman of 4PX
Mr. Han Van Loi, CEO of Boxme Global, commented on the partnership: "Regarding cross-border transactions from Southeast Asia to global markets, we realize that it is time to seek partnership from a company with a strong global network in order to enable a seamless shipping line with optimized cost, which we expect to make global selling for Southeast Asian products a lot easier. Southeast Asia is becoming the world's manufacturing hub for many industries such as fashion, handicrafts, footwear, etc. Therefore, it's our ambition to penetrate the global market using these products, optimize the intermediaries in order to maximize profit for local businesses.
Founder and Chairman of 4PX, Mr. Kevin Li also added: "Acknowledging the huge potential of E-commerce in Southeast Asia, we are very pleased to kick off the partnership with Boxme focusing on two primary projects: Netsale dropshipping platform and SEA-Global shipping. In the future, we will level the partnership to new heights in order to meet all E-commerce sellers' needs in selling to and from the region."
About Boxme: Boxme Global is the premier cross-border E-commerce fulfillment network in Southeast Asia. With the mission of enabling international trade between the local region and the global market, Boxme has partnered up with various E-commerce platforms and shipping couriers throughout 4 years of operation. Via Boxme, businesses can find the most suitable solution to their logistics matters, from fulfillment, transportation, import/export to last-mile delivery.
->> Read more: Boxme Global: 4 years of developing the most well-rounded logistics solution in Southeast Asia
About 4PX: Founded in 2004, 4PX is one of China's top logistics providers. The company is also a cross-border logistics service provider with operation in over 50 countries, employing more than 1,500 staff. Currently, 4PX offers postal, express shipping and fulfillment services.
Boxme is the premier cross-border e-Commerce fulfillment network in Southeast Asia, enabling world-wide merchants to sell online into this region without needing to establish a local presence. We deliver our services by aggregating and operating a one-stop value chain of logistic professions including: International shipping, customs clearance, warehousing, connection to local marketplaces, pick and pack, last-mile delivery, local payment collection and oversea remittance.