In this constantly evolving business world, we are witnessing the birth of a new era of e-commerce companies. It would be hard to imagine a retailer without website these days. The internet has threatened the old-fashioned idea of a traditional store with a more accessible and reachable marketplace. We are making a significant change in the way we shop: from shopping at physical stores to shopping at virtual, e-commerce platform.
As long-established large corporations turn to online business, new companies have completely abandoned traditional stores. Many new companies (especially fashion companies) solely operate online.

From small start-up companies just breaking into the market to large companies seeking new opportunities, outsourcing can be an excellent strategy for survival. Many companies are outsourcing warehousing and distribution services, allowing them to focus on other aspects of their business.
With this increasing trend, an old industry has been brought into the light: Logistics and Fulfillment Outsourcing. Currently, there is a hot debate on: Should enterprises invest in developing their logistics or outsourcing this service? The purpose of this article is to offer seven fundamental reasons why outsourcing logistic services is completely and utterly vital to an e-commerce business.
1. Accurate and effective
Warehouse logistics is a process that requires precision and high efficiency. With knowledge and years of experience in this field, the companies providing this service are experts that you can trust. By outsourcing fulfillment process, your company can both improve productivity, service and customer satisfaction
2. Space saving
Warehouses are always a big expense. Many e-commerce companies are renting storage or trying to store their goods in their storehouses or car-park. By using outsourced services, you will not only save some space but also loads of money. Besides, with the software system provided, you have complete control over the quantity, product information and the level of goods distribution.
3. Industry Expertise
Third-party logistics providers are up to date with every latest development in logistics industry which includes technology and manufacturing. They can determine how to ship freight in an efficient and strategic manner in order to reduce your overhead as a company.
4. Cost savings
Like it or not, money is what makes this world go round. Outsourcing the logistics function to a company like Boxme not only brings a ton of improvements and visibility but also puts money back into pockets of clients by removing costs and increasing savings.
5. Risk Reduction
Warehousing and shipping come with all kinds of risks; from financial risk of inventory loss and damage to possible injury of your workforce. Outsourcing your warehousing and shipping operation typically results in less business risk for you.
6. Freedom to focus on "critical operations"
Now let's imagine, if you have to start from the beginning, it can take years to build a well-polished logistics department. And also, it's costly to train people, having them leave, then train new people. If you have no experience in the logistics industry, do you think you can handle all the hassle? Let people with knowledge and experience share your worries. You only need to focus on "critical operations", such as planning marketing strategy or expanding your business.
7. Stepping stone to the bigger markets
Are you a newbie to ecommerce business? Are you looking for a way to help your business grow? Are you desperately looking for solutions to bring your business to the bigger market? Are you running different promotions but they are not really effective? By using outsourced logistics services, you are making an astounding investment for your company. As mentioned above, if you want to grow, you need to focus on the important things, and leave the rest to the experts.
To wrap it up,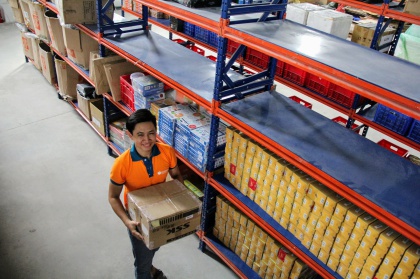 Make sure you invest in the right value-added third-party logistics provider. If you do not know where to start, outsourcing the logistics services of your company to a professional fulfillment provider like Boxme could be a good starting point. With our comprehensive experience and innovative technology, Boxme can help you achieve a great return on your investment.