For online sellers, Amazon is a major double edged sword.
On the plus side, the marketplace gives sellers direct access to 250 million buyers. According to Forbes, 4 of every 10 dollars spent online goes to Amazon. Sellers can't afford NOT to list their goods there, and Amazon knows it – which brings us to the other side of that very sharp sword.
About half of Amazon sellers use the services of Amazon's logistics arm, Fulfillment By Amazon (FBA) to store and ship out goods. Amazon leverages its power to set fulfillment pricing and FBA shipping policies that are not always supplier-friendly.
Despite this, many suppliers view FBA as a necessary evil. With over 100 fulfillment centers in the U.S alone (and growing rapidly), Amazon/FBA can easily execute Amazon requirements for free, two-day shipping under the Amazon Prime program.
Suppliers want access to Prime buyers (they spend twice as much as non-Prime buyers on Amazon), so they tolerate rigid FBA shipping and inventory policies to automatically qualify for Prime.

(Source: ForwardtoFBA)
Why FBA might not be the best way to do it
Shipping to Amazon
Amazon has strict routing requirements for inbound shipments to Amazon warehouses (if you want to see these requirements, here they are).
They dictate the size and weight of the box, paperwork requirements, how products are packed in the box, and the contents and position of box labels. If inbound shipments do not meet the spec, the entire shipment can be returned – at your expense!
Requirements for EDI data transmissions and label creation are equally detailed and well documented.
In general, very large shippers have little problem with Amazon's requirements, but SMEs without dedicated fulfillment and IT staff can struggle.
Shipping Out Amazon Orders
->> 4 efficient international shipping tips for e-Sellers.
Amazon is one of the world's largest logistics companies, and they store and ship goods very efficiently. A big reason: Rigid policies. Let's look at some restrictions of FBA.
Challenges of FBA shipping include:
High storage costs that rise during the holiday season.
FBA storage rates for standard products can be 3-4 times what a regular outsource 3PL might charge. And during the holidays, Amazon's $0.69 per cubic foot storage charge spirals up to $2.4 per cubic foot for the same space.

Penalties for slow moving inventory.
Once product is in the FBA warehouse, Amazon expects it to move. If one or more of your SKUs doesn't sell as planned, you pay.
According to Amazon, "Units that have been in an Amazon fulfillment center for 6 to 12 months as of the Inventory Cleanup date are charged $11.25 per cubic foot. Units that have been in an Amazon fulfillment center for 12 months or more as of the Inventory Cleanup date are charged $22.5 per cubic foot."
As you can see, these charges are incremental to the standard storage charge.
When your product ships from an FBA warehouse, it arrives at your customer's door in an Amazon box, diminishing the overall experience with your brand.
Let's say, for orders of a certain shampoo, you want to include a flyer promoting a special offer for a hair conditioner.
Sorry. No go. To maintain maximum efficiency in the FBA warehouse, Amazon wants to simply pick and ship. There are limited options to customize.
If you find yourself tangled up in these costs and complexity, it might be time to look for other solutions.
Alternatives to FBA
1/ Reach Amazon customers via Shopify
Amazon merchants have no excuse not to give Shopify a go, and vice versa.
The platform integrated with the marketplace last year, making it possible for users selling in USD to easily list their items on the site. All you have to do is add the Amazon sales channel to your Shopify account and you can create listings in seven product categories:
Clothing and accessories

Health and household

Beauty and personal care

Home and kitchen

Patio and garden

Sewing, arts and crafts

Sports and outdoors

Toys and games
In addition, Shopify merchants selling branded products can sign up for protection under the Amazon Brand Registry. Not only does this program help sellers protect their registered trademarks on Amazon, it also offers them full control of their listings and there's no need to include Global Trade Item Numbers.
There are plenty of benefits to be found here. First off, you'll gain a new distribution channel and access to millions of potential customers. But that's not all.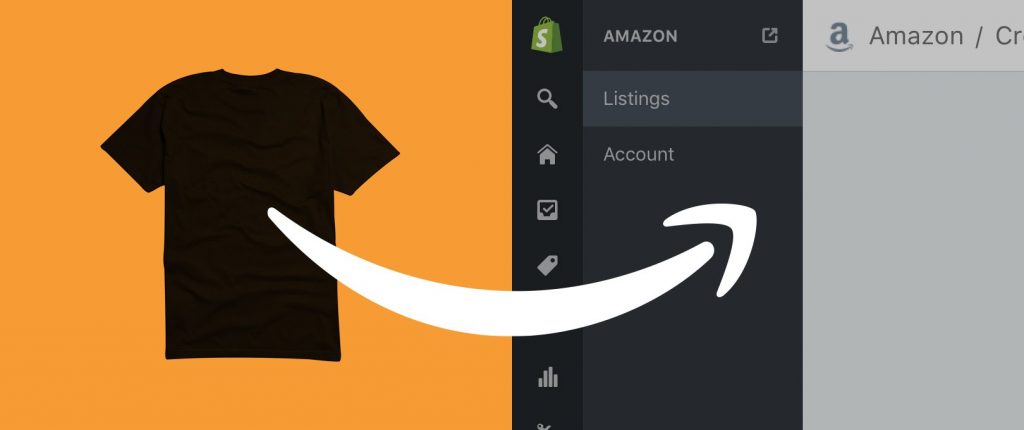 (Source: Shopify)
Adding the Amazon sales channel to your Shopify account enables you to sync product details, variants and images to create listings on the marketplace without entering information manually.
At the same time, you can manage your entire inventory for both your Shopify and Amazon stores (and anywhere else you're selling) in one place, so that you'll never sell your last item to multiple buyers.
While there are no additional Shopify fees for selling on Amazon, you do need to operate a Professional Seller account, which costs $39.99 per month, plus a referral fee based on your product's category. Shopify will also take a percentage of net revenue on every sale you make through Amazon.
2/ Go FBM (Fulfillment by Merchant)
Amazon gives you the option of being an Amazon FBM (Fulfillment by Merchant) to the extent you don't want to be an Amazon FBA seller.
As an FBM seller, you handle the packing, shipping, storage, customer service, and returns of your products yourself, rather than paying for the Amazon FBA service.
When to be an FBM Seller:
Smaller Businesses

Exclusive Products
Advantages to Being an FBM Seller:
Sellers have complete control over their inventory and don't need to split their inventory between Amazon's warehouse and their own. This can help during big selling day like Black Friday or Prime Day as they do not have a limit in how much they can sell.
By being an FBM seller, you do not have to pay storage or fulfillment fees to Amazon; however, you will still have referral and closing fees
As you will no longer be paying those fees to Amazon for your orders, it is likely that your profit per product will be slightly higher than if Amazon were to fulfill the orders.
However, as an FBM seller you will likely have less sales overall. This is because over half of products on Amazon are prime and customers often prefer the free-today shipping as they are paying for it with their prime-membership fee.
In contrast to FBA sellers who receive merely a box of returned items from Amazon, FBM sellers can match returned products with the customer, therefore lowering the risk of fraud.

(Source: ShippyPro)
Disadvantages to Being an FBM Seller:
As an FBM Seller, you are responsible for all packaging, shipping, and management of inventory. While some sellers might prefer to have this control, this might be overwhelming for high volume sellers as you must fulfill orders timely or Amazon will penalize you (lower your chances of being in the Buy Box).
In order to be competitive with other sellers who are FBA sellers, oftentimes FBM sellers will need to price their items lower to be in the Buy Box.
3/ Dropshipping from Vietnam
If you're feeling like Amazon FBA is no longer the best way to go, your best bet might be to switch your stream of products into Vietnam and practice indirect dropshipping.
Plenty of e-Commerce platforms out there apart from Amazon provide useful sources to dropship. And the number is so abundant that you could establish your central Vietnam store right away and leverage your products on eBay, Shopify, Etsy, Magento, etc..
->> Everything you need to know about your Vietnam dropship business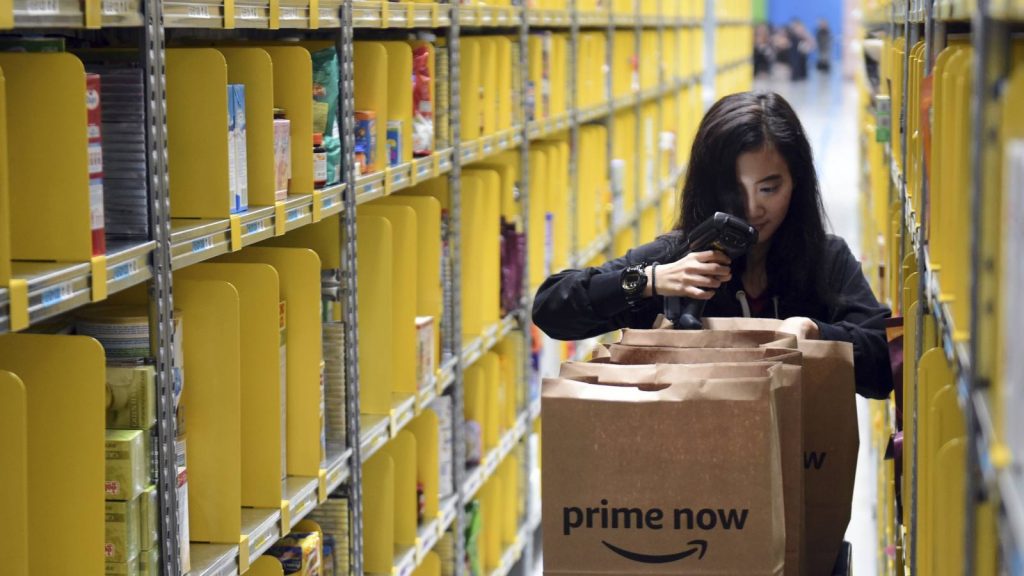 (Source: NikkeiAsianReview)
For online sellers in Vietnam like you, when it comes specifically to (international) shipping, third-party logistics providers (3PLs) can help meet Amazon's shipping and routing requirements, and can even be an attractive alternative to FBA shipping.
Let's examine some of the ways 3PLs can help:
When you partner with a 3PL, you negotiate set warehousing rates that are fixed and transparent throughout the relationship.

3PLs also prefer fast-moving inventory, but will work with you to identify the slow movers and the best way to handle them.

3PLs are generally able to customize processes to your precise fulfillment requirements with a variety of value-added warehousing services, such as custom labelling.
If international shipping bothers your everyday operation, let Boxme aid you with our ultra affordable solution!
Boxme is here to help!

Our reliable single order delivery service to the USA can help you shorten your delivery time and minimize added costs in the process:
Shipping single orders weigh below 0.5lb and 1lbs to the US for $8 and $9.5, respectively.

Lightning fast delivery time at approximately 10 to 14 days.

Full-tracking – easily keep an eye on your order at all time using your order ID.

Shipping handled by USPS – one of the most renowned freight players in the US shipping field.
[vc_row][vc_column][vc_raw_js]JTNDJTIxLS1IdWJTcG90JTIwQ2FsbC10by1BY3Rpb24lMjBDb2RlJTIwLS0lM0UlM0NzcGFuJTIwY2xhc3MlM0QlMjJocy1jdGEtd3JhcHBlciUyMiUyMGlkJTNEJTIyaHMtY3RhLXdyYXBwZXItZDBlOTg0MDgtZTMyZi00ODE3LTgwZmMtZTlkMzkzNjI3ZjgxJTIyJTNFJTNDc3BhbiUyMGNsYXNzJTNEJTIyaHMtY3RhLW5vZGUlMjBocy1jdGEtZDBlOTg0MDgtZTMyZi00ODE3LTgwZmMtZTlkMzkzNjI3ZjgxJTIyJTIwaWQlM0QlMjJocy1jdGEtZDBlOTg0MDgtZTMyZi00ODE3LTgwZmMtZTlkMzkzNjI3ZjgxJTIyJTNFJTNDJTIxLS0lNUJpZiUyMGx0ZSUyMElFJTIwOCU1RCUzRSUzQ2RpdiUyMGlkJTNEJTIyaHMtY3RhLWllLWVsZW1lbnQlMjIlM0UlM0MlMkZkaXYlM0UlM0MlMjElNUJlbmRpZiU1RC0tJTNFJTNDYSUyMGhyZWYlM0QlMjJodHRwcyUzQSUyRiUyRmN0YS1yZWRpcmVjdC5odWJzcG90LmNvbSUyRmN0YSUyRnJlZGlyZWN0JTJGMjE0MTUyOCUyRmQwZTk4NDA4LWUzMmYtNDgxNy04MGZjLWU5ZDM5MzYyN2Y4MSUyMiUyMCUyMHRhcmdldCUzRCUyMl9ibGFuayUyMiUyMCUzRSUzQ2ltZyUyMGNsYXNzJTNEJTIyaHMtY3RhLWltZyUyMiUyMGlkJTNEJTIyaHMtY3RhLWltZy1kMGU5ODQwOC1lMzJmLTQ4MTctODBmYy1lOWQzOTM2MjdmODElMjIlMjBzdHlsZSUzRCUyMmJvcmRlci13aWR0aCUzQTBweCUzQiUyMiUyMHNyYyUzRCUyMmh0dHBzJTNBJTJGJTJGbm8tY2FjaGUuaHVic3BvdC5jb20lMkZjdGElMkZkZWZhdWx0JTJGMjE0MTUyOCUyRmQwZTk4NDA4LWUzMmYtNDgxNy04MGZjLWU5ZDM5MzYyN2Y4MS5wbmclMjIlMjAlMjBhbHQlM0QlMjJXYW50JTIwRnJlZSUyMEFkdmlzZSUyMG9uJTIwSG93JTIwdG8lMjBEcm9wc2hpcCUyMGZyb20lMjBWaWV0bmFtJTNGJTIwQ29udGFjdCUyMFVzJTIwTm93JTIyJTJGJTNFJTNDJTJGYSUzRSUzQyUyRnNwYW4lM0UlM0NzY3JpcHQlMjBjaGFyc2V0JTNEJTIydXRmLTglMjIlMjBzcmMlM0QlMjJodHRwcyUzQSUyRiUyRmpzLmhzY3RhLm5ldCUyRmN0YSUyRmN1cnJlbnQuanMlMjIlM0UlM0MlMkZzY3JpcHQlM0UlM0NzY3JpcHQlMjB0eXBlJTNEJTIydGV4dCUyRmphdmFzY3JpcHQlMjIlM0UlMjBoYnNwdC5jdGEubG9hZCUyODIxNDE1MjglMkMlMjAlMjdkMGU5ODQwOC1lMzJmLTQ4MTctODBmYy1lOWQzOTM2MjdmODElMjclMkMlMjAlN0IlN0QlMjklM0IlMjAlM0MlMkZzY3JpcHQlM0UlM0MlMkZzcGFuJTNFJTNDJTIxLS0lMjBlbmQlMjBIdWJTcG90JTIwQ2FsbC10by1BY3Rpb24lMjBDb2RlJTIwLS0lM0U=[/vc_raw_js][/vc_column][/vc_row]
WANT TO LEARN MORE?
->> International single order shipping – the perfect compliment to your Shopify, Amazon, eBay dropship business
->> [Q&A] What are the problems of dropshipping from Vietnam to the USA? (PART I)
->> What makes a product that sells when dropshipping on Shopify, Amazon, eBay?