Black Friday is a gold mine for e-Commerce entrepreneurs. The numbers back this up wholefully.
It's reported that U.S. retailers alone earned

a record $7.9 billion

in revenue on Black Friday 2017.

Cyber Monday is colossal too – it's estimated that Cyber Monday brought in

$6.6 billion in online sales

in 2017.

At the peak of the 2017 weekend-long Black Friday

bonanza

– which starts the Friday after Thanksgiving and stretches through the following Monday  – Shopify merchants were processing $1,138,574 per minute in sales.
Simply put, this is the most critical time of the year for e-Commerce.
But, what if you don't have a product yet? Or maybe you just haven't found a product that your audience loves?

(Source: WalmartCanada)
This is the article for you. We'll go through some of the best dropshipping products to sell to the US on Black Friday and Cyber Monday 2018. The list is compiled using data from various high profile dropshipping marketplaces (like Oberlo & Doba) and Google Trends data.
->> 9 best dropshipping suppliers for your e-Commerce business.
BUT WHEN IS BLACK FRIDAY 2018?

Black Friday officially begins the day after the Thanksgiving holiday (Thursday), so this year it's on November 23, 2018. However, it's likely going to be more than just the one-day event it has been in the past.

Many retailers start coming out with Black Friday shopping deals early in the week as to avoid getting drowned out by everyone else. Most deals will also continue on through the weekend and into Cyber Monday (November 26), which is now actually Cyber Week.

So, the exact dates for Black Friday and Cyber Monday have become fairly irrelevant for any shopper.
Okay, there's a lot to cover, so let's get right into it.
1/Baseball Caps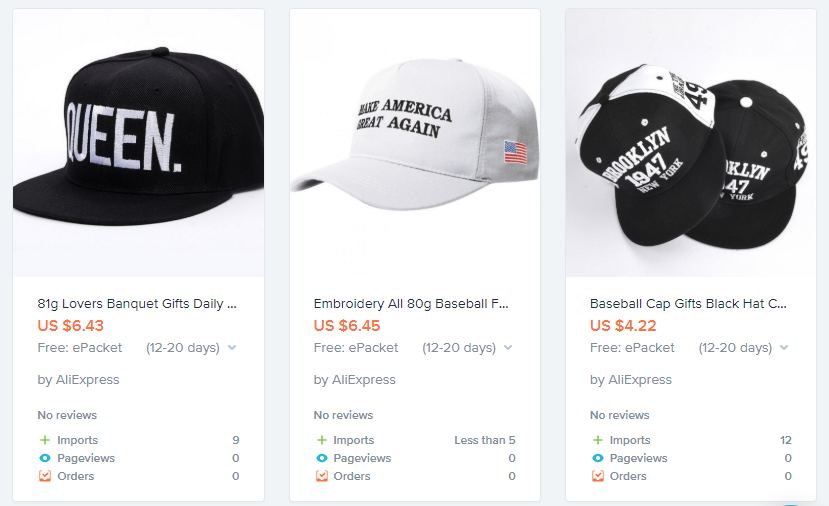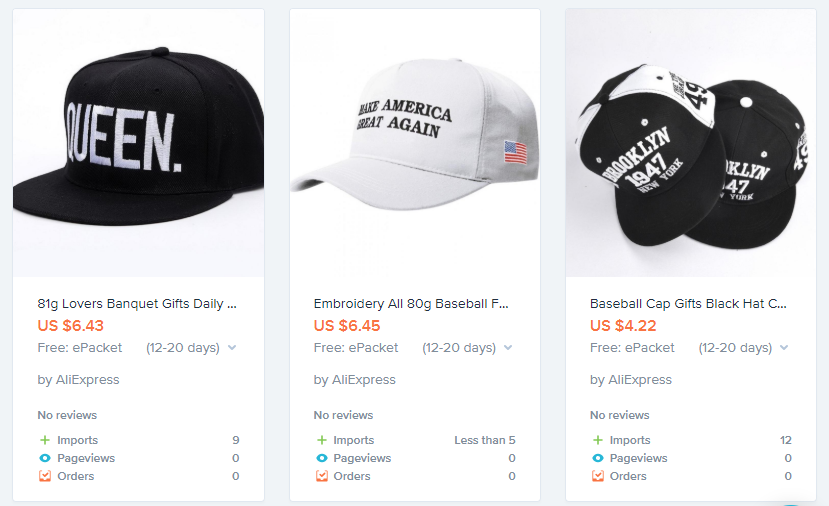 First up on our list of the best dropshipping products to sell to the US on Black Friday 2018, we've got baseball caps.
Now, you might be thinking to yourself: "Why would I want to sell baseball caps? What's so special about them? They've been around forever, right?"
For sure, but that's exactly why we've included them in this list!
Not convinced? Let's take a look at the Google Trends data below:

As you can see, there is a steady amount of interest for these products throughout the year.
This means that they aren't necessarily trending, which actually makes them a great product to sell during Black Friday and Cyber Monday.
Sure, trending products can really help you to skyrocket sales during Black Friday, but it isn't always about finding the hottest new products. Remember, if you're selling new products to your audience, you're going to have a harder time convincing them why they need it in the first place.
That's exactly why some of the top-selling products across Black Friday and Cyber Monday are products which shoppers already had interest in throughout the year. They knew they wanted to make that purchase, but they were just waiting for the sales before they pulled the trigger.
So give baseball caps a try this Black Friday – Vietnamese entrepreneurs are already finding success with these products.
2/Wireless Speakers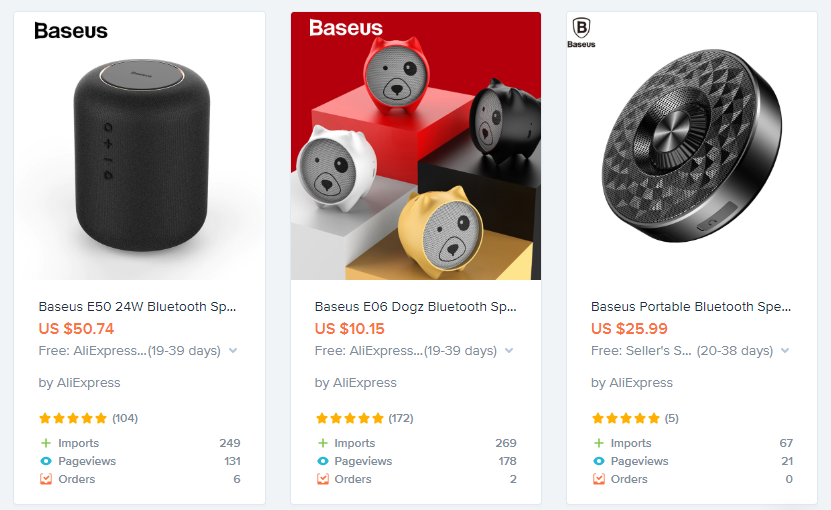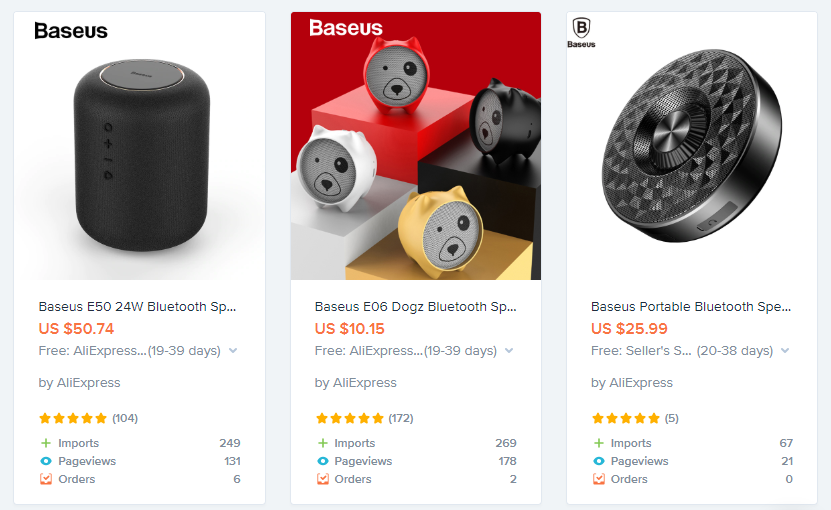 Next up we've got wireless speakers – another great dropshipping product to sell to the US on Black Friday 2018.
Why wireless speakers? It's simple: People love listening to music, but they hate wires.
Seriously, just think about how insane it is the amount of times that you yourself have probably neatly put away your earphones.. only to come back later and find out that they're now a tangled mess.
That's why wireless speakers will be so great for your customers – they're portable, light, and you'll never need to worry about wires again.
Plus, from an entrepreneur's perspective, they're golden.
They're relatively cheap to source, they're light so they're simple to ship, and they're a product which has a clear audience that you can tap into – pretty much everything that makes a successful dropshipping product.
->> What makes a product that sells when practice dropshipping?
All in all, wireless speakers are a great dropshipping product to sell to the US on Black Friday 2018.
3/Chakra Bracelet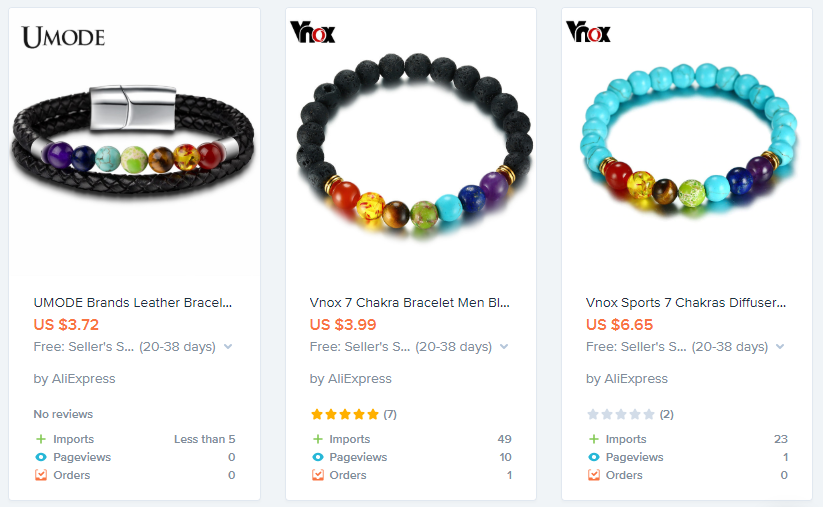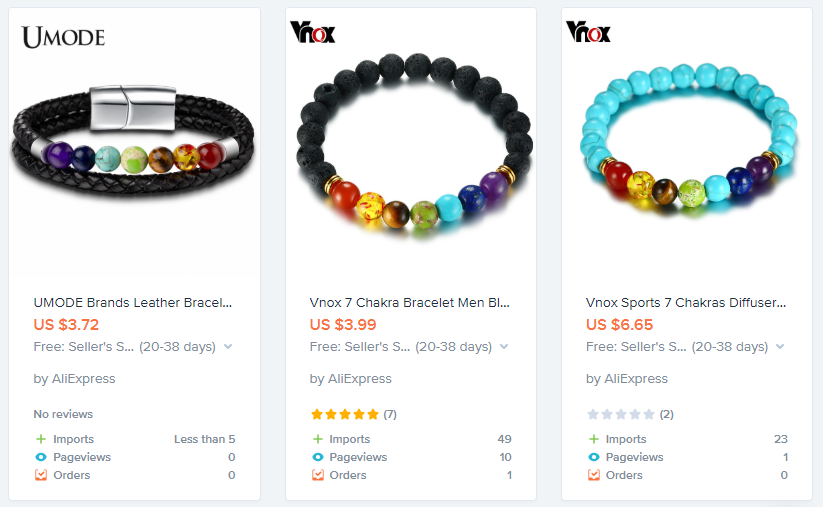 Americans are becoming more and more interested in well-being and spirituality, which is exactly why we've included chakra bracelets in our list of the best dropshipping products on Black Friday.
Chakra bracelets feature seven different colored gemstones or beads, and the colors which are used (red, orange, yellow, blue, green, indigo, and purple) are believed to help the wearer experience more positive spiritual energy.
Whether you believe in the benefits of chakra bracelets or not, you can't argue with the data – shoppers go wild for these products during the holiday season.

As you can see, there were two main spikes, with the main one happening right around Christmas – this makes it a perfect product for shoppers who are looking to pick up gifts for the holiday season.
Take advantage of these insights and try to find success with these products. We're sure that they're a great dropshipping product on Black Friday 2018.
4/Anti Snore Device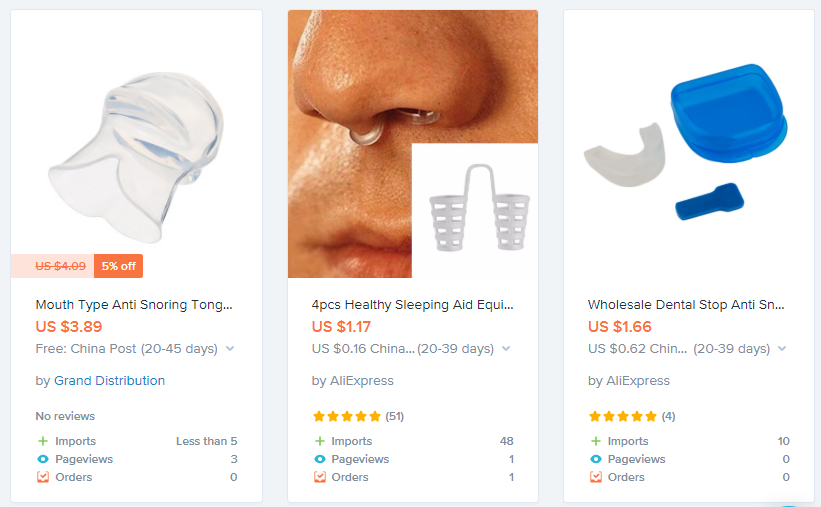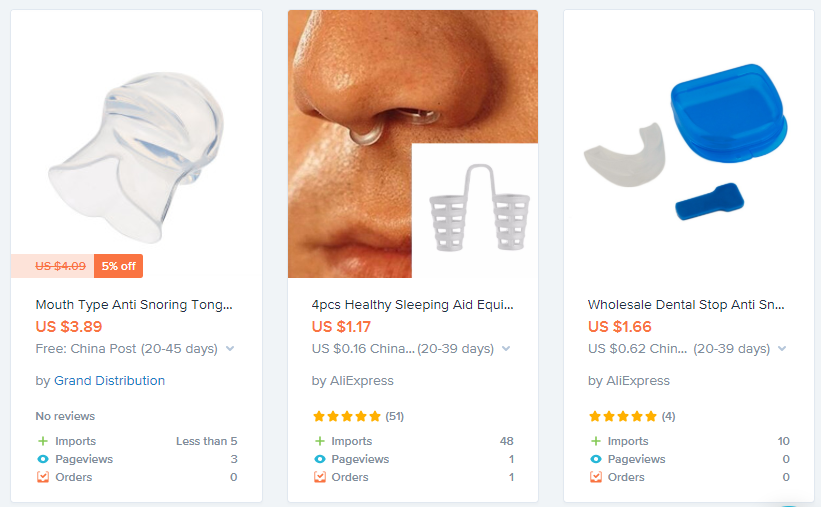 Whether you're a serial snorer yourself, or you unluckily live with somebody who sounds like a walrus while they're sleeping, you probably know how annoying snoring can be.
And you'll also know how much of a game changer our next suggested product is.
Anti snoring devices are next up on our list of of the best dropshipping products to sell to the US for Black Friday 2018.
There are a few different varieties of anti snoring devices which you can find on marketplaces – some of them are inserted into the nose, others are placed around the jaw – but all of them are great options for dropshippers.
These unique products allow for great price markups, are easy to ship (which means you can take advantage of our international single order shipping service), and they're fairly new – which is a great combination for entrepreneurs.
->> International single order shipping – the perfect compliment to your Shopify, Amazon, eBay dropship business
5/Wine Tumblers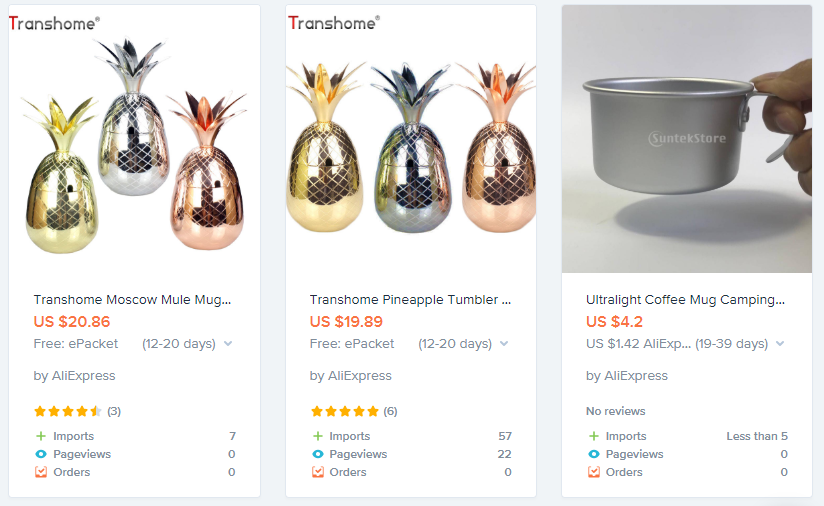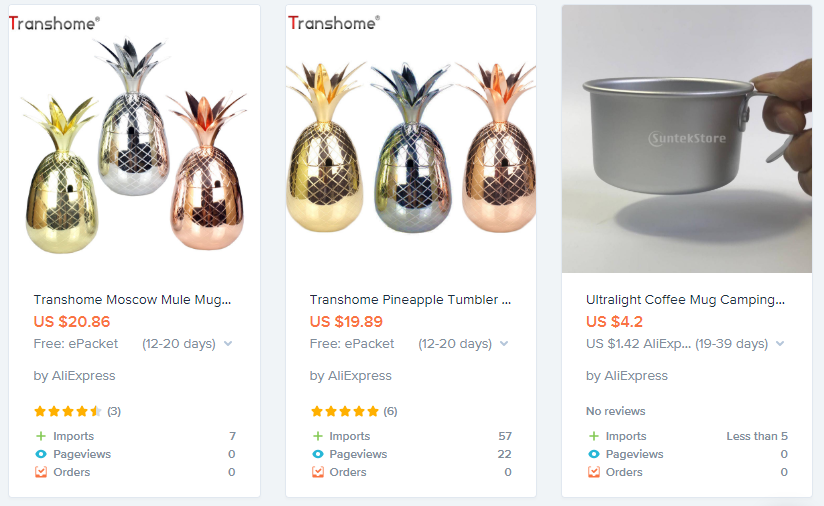 When it comes to the holiday shopping season, and Black Friday and Cyber Monday in particular, wine-related products are usually a great choice – especially for that person you know who loves the adult grape juice.
Plus, take a look at the Google Trends data below. You'll see huge spikes in interest for wine tumblers around Christmas 2017 and summer 2018.

This means that shoppers have interest for wine tumblers year round, not just for Black Friday – which takes us back to the case of baseball caps.
These products are available in a range of different styles and sizes, so feel free to test out different wine tumblers in the build up to Black Friday and try to gain an understanding of which types your audience is most interested in.
6/Mini Projectors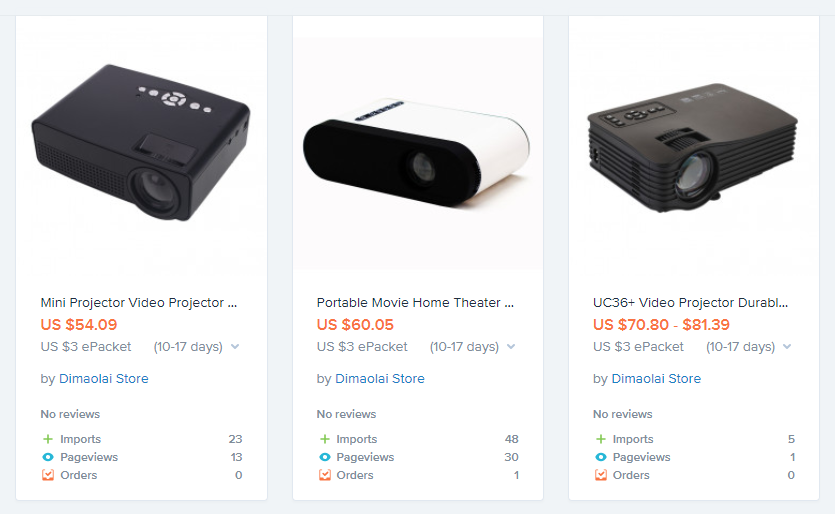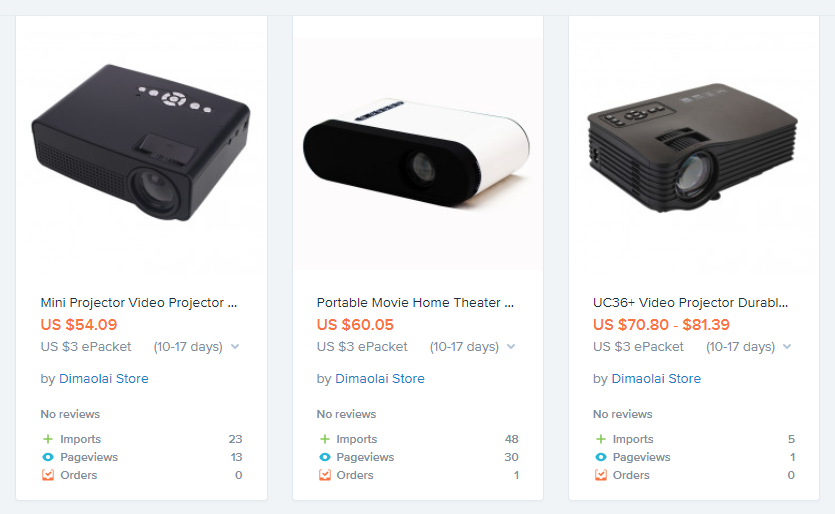 Next up on our list of the best dropshipping products to sell to the US for Black Friday, we've got mini projectors.
These nifty little products will allow your audience to take their Netflix addiction to a whole new level.
All they'll need to do is connect their mini projector to their laptop or smartphone, and the projector will beam visual content onto a much larger surface, like a wall or even a piece of curtain. Perfect for those cold nights when all you want to do is relax at home and have a movie date.
And, as we can see from the Google Trends graph below, mini projectors hit peak interest on Black Friday, so now would be a great time to try them out.
Remember, these projectors are mini. That means that they're light and compact, so again, they're going to be eligible for single order shipping.
If you're running a tech store, or you're looking to start one, this product could also be perfect for you.
7/Garlic Grinder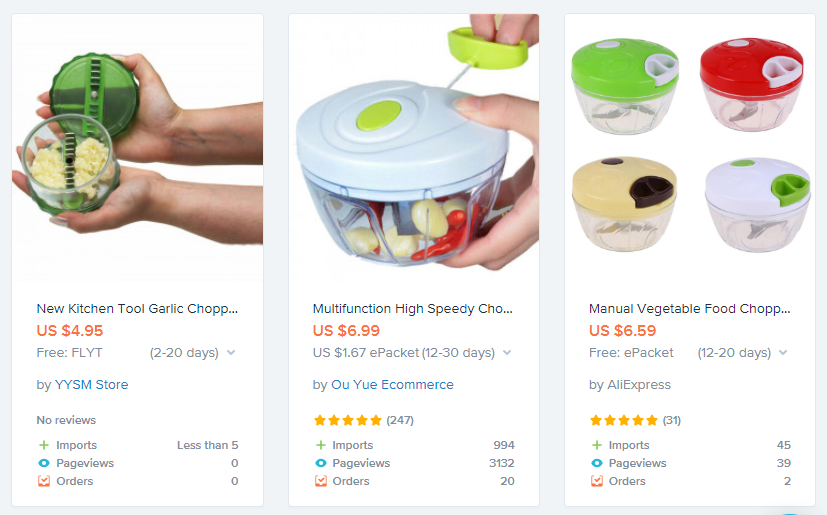 The holiday season is a time for family gathering, and when people gather, they cook.
That's exactly why garlic grinders made it onto our list of the best dropshipping products to sell for Black Friday 2018.
These clever tools make light work of chopping up gloves of garlic. All your customers will need to do is pop a clove into the slot, and then you can use your hand to pump out diced portions of garlic. Simple.
If we look at historical Google Trends data, we can see that these products peaked around Christmas last year, but that interest began to trend upwards around November – just in time for Black Friday.

It is also worth mentioning that similar kitchenware products like this work really well for video advertisements, so take that into consideration when you're trying to come up with Black Friday marketing campaigns.
8/Pet Raincoats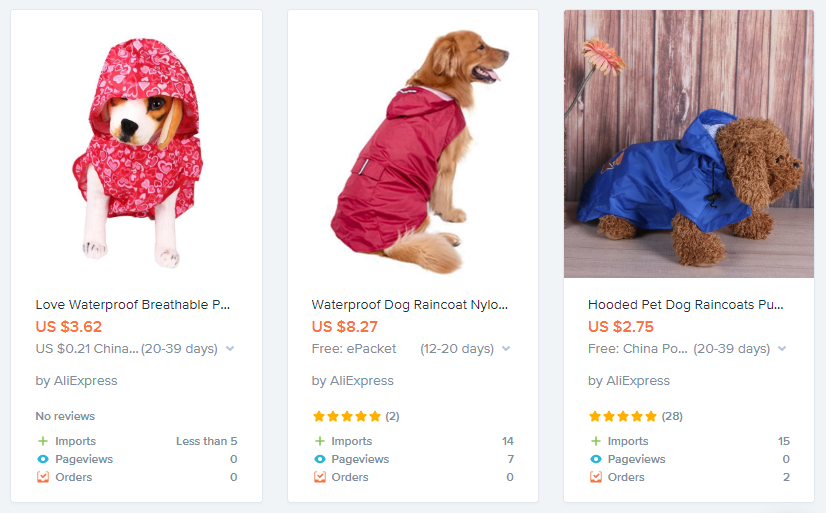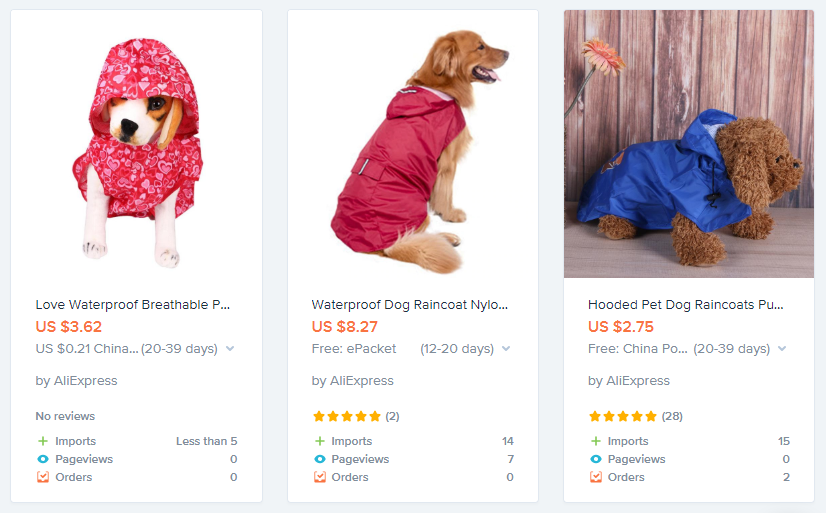 The next addition to our list of the best dropshipping products for Black Friday 2018 is absolutely adorable – pet raincoats.
Let's be honest, it's always quite sad to see our pooches soaking wet after a rainy walk. But our little furry friends don't need to look like drowned rats every time they go outside in winter.
These unique products function exactly like a raincoat for humans does – pop it onto them and they'll be shielded from any harsh weather (plus they'll be ready for at least one cute Instagram photoshoot).
Pet raincoats are proving to be very popular on various marketplaces. On Oberlo, they have already registered lots of recent sales. Plus, the people who bought these products loved them – 4.7 stars is an excellent rating.
Combine these products with an enticing ad for Black Friday and watch those pet lovers come flooding in.
9/Smartwatches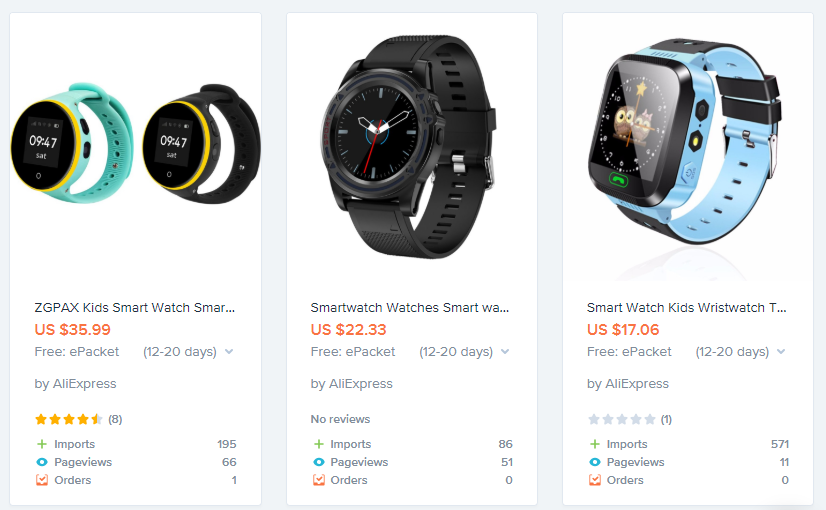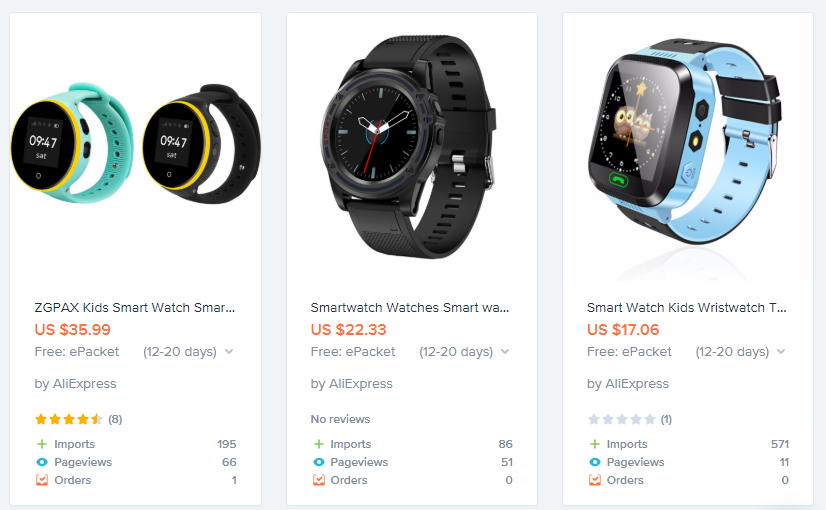 Now it's time to talk about a snazzy tech accessory – smartwatches.
These products usually skyrocket in popularity around Black Friday, and hit peak interest just before Christmas, which is why they've landed a spot on our list of the best dropshipping products to the US for Black Friday 2018.
This is the kind of product which shoppers love, but can be quite expensive. And that's exactly why this product is so good to sell over Black Friday and Cyber Monday – if you show your audience a product which they already love, and add in a discount, you're much more likely to land some sales.
This is especially true when you're selling during a time of the year when people are primed to make online purchases.
If you do decide to sell these products at a discount on Black Friday, remember to include the original price of the product in any marketing material that you create – it'll really help your potential customers to understand the huge discount that they're getting.
10/Oil Diffusers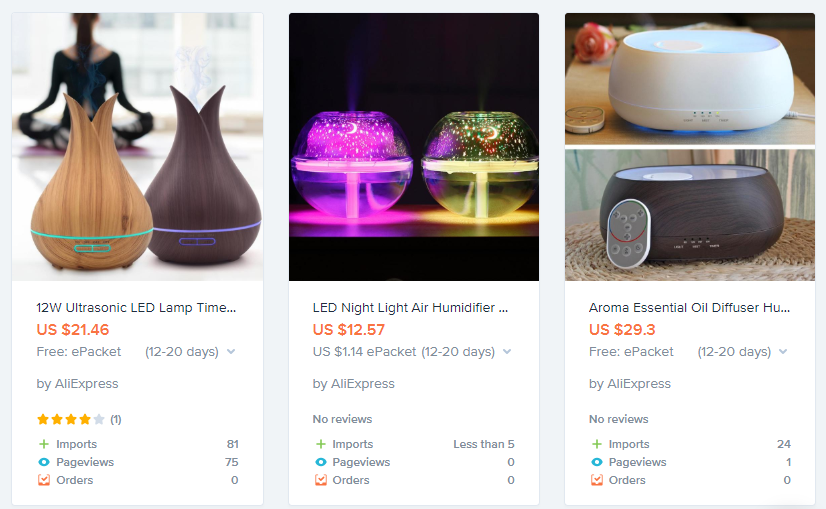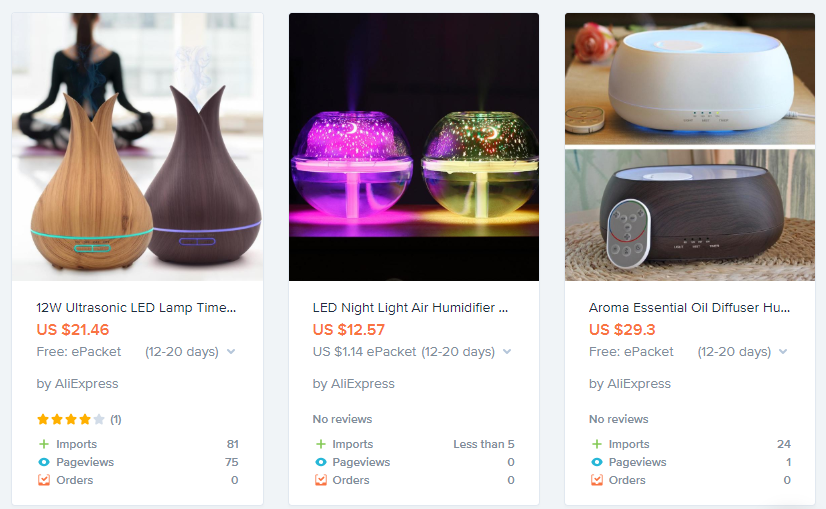 Last up on our list of the best dropshipping products to sell to the US on Black Friday 2018, we've got oil diffusers.
These products have really taken off recently – the oil diffuser above has generated sales by the thousands on marketplaces like Oberlo. Of course, this is promising news if you're looking for products to sell this Black Friday.
And one of the most interesting things is that, according to Google Trends, interest in oil diffusers hasn't even begun to peak this year. Interest historically takes off in November (around Black Friday) and peaks around Christmas time.

Let's sell!
Okay, so that's it for our list of the best dropshipping products for Black Friday 2018. We hope you've got a ton of ideas for products that you can start selling over the holiday period.
Remember, these products are just our recommendations. Use these to guide your thought process, and take a look through the best dropshipping suppliers' websites for any other products that catch your eye.
Once you're done and ready to sell, especially as a FBM seller or operating on eBay, Etsy, Magento, etc.. Boxme can happily take over your shipping-to-the-US process.
Our international single order shipping service, partnering with USPS, will enable you to practice dropshipping your Black Friday/Cyber Monday products to the US with ease.
A 15% discount rate is being applied for US order shipments! *
Create your order TODAY to enjoy free pick-up at your designated addresses! **
Boxme is here to help!

Our reliable single order delivery service to the USA can help you shorten your delivery time and minimize added costs in the process:

*Shipping single orders weigh below 0.5lb and 1lbs to the US for $8 and $9.5, respectively.

*Lightning fast delivery time at approximately 10 to 14 days.

*Full-tracking – easily keep an eye on your order at all time using your order ID.
*Offered in limited numbers. Seize your chance now!
**Note: Applicable to pick-up addresses in Hanoi and Hochiminh City from now to November 30, 2018. 
[vc_row][vc_column][vc_raw_js]JTNDJTIxLS1IdWJTcG90JTIwQ2FsbC10by1BY3Rpb24lMjBDb2RlJTIwLS0lM0UlM0NzcGFuJTIwY2xhc3MlM0QlMjJocy1jdGEtd3JhcHBlciUyMiUyMGlkJTNEJTIyaHMtY3RhLXdyYXBwZXItZDBlOTg0MDgtZTMyZi00ODE3LTgwZmMtZTlkMzkzNjI3ZjgxJTIyJTNFJTNDc3BhbiUyMGNsYXNzJTNEJTIyaHMtY3RhLW5vZGUlMjBocy1jdGEtZDBlOTg0MDgtZTMyZi00ODE3LTgwZmMtZTlkMzkzNjI3ZjgxJTIyJTIwaWQlM0QlMjJocy1jdGEtZDBlOTg0MDgtZTMyZi00ODE3LTgwZmMtZTlkMzkzNjI3ZjgxJTIyJTNFJTNDJTIxLS0lNUJpZiUyMGx0ZSUyMElFJTIwOCU1RCUzRSUzQ2RpdiUyMGlkJTNEJTIyaHMtY3RhLWllLWVsZW1lbnQlMjIlM0UlM0MlMkZkaXYlM0UlM0MlMjElNUJlbmRpZiU1RC0tJTNFJTNDYSUyMGhyZWYlM0QlMjJodHRwcyUzQSUyRiUyRmN0YS1yZWRpcmVjdC5odWJzcG90LmNvbSUyRmN0YSUyRnJlZGlyZWN0JTJGMjE0MTUyOCUyRmQwZTk4NDA4LWUzMmYtNDgxNy04MGZjLWU5ZDM5MzYyN2Y4MSUyMiUyMCUyMHRhcmdldCUzRCUyMl9ibGFuayUyMiUyMCUzRSUzQ2ltZyUyMGNsYXNzJTNEJTIyaHMtY3RhLWltZyUyMiUyMGlkJTNEJTIyaHMtY3RhLWltZy1kMGU5ODQwOC1lMzJmLTQ4MTctODBmYy1lOWQzOTM2MjdmODElMjIlMjBzdHlsZSUzRCUyMmJvcmRlci13aWR0aCUzQTBweCUzQiUyMiUyMHNyYyUzRCUyMmh0dHBzJTNBJTJGJTJGbm8tY2FjaGUuaHVic3BvdC5jb20lMkZjdGElMkZkZWZhdWx0JTJGMjE0MTUyOCUyRmQwZTk4NDA4LWUzMmYtNDgxNy04MGZjLWU5ZDM5MzYyN2Y4MS5wbmclMjIlMjAlMjBhbHQlM0QlMjJXYW50JTIwRnJlZSUyMEFkdmlzZSUyMG9uJTIwSG93JTIwdG8lMjBEcm9wc2hpcCUyMGZyb20lMjBWaWV0bmFtJTNGJTIwQ29udGFjdCUyMFVzJTIwTm93JTIyJTJGJTNFJTNDJTJGYSUzRSUzQyUyRnNwYW4lM0UlM0NzY3JpcHQlMjBjaGFyc2V0JTNEJTIydXRmLTglMjIlMjBzcmMlM0QlMjJodHRwcyUzQSUyRiUyRmpzLmhzY3RhLm5ldCUyRmN0YSUyRmN1cnJlbnQuanMlMjIlM0UlM0MlMkZzY3JpcHQlM0UlM0NzY3JpcHQlMjB0eXBlJTNEJTIydGV4dCUyRmphdmFzY3JpcHQlMjIlM0UlMjBoYnNwdC5jdGEubG9hZCUyODIxNDE1MjglMkMlMjAlMjdkMGU5ODQwOC1lMzJmLTQ4MTctODBmYy1lOWQzOTM2MjdmODElMjclMkMlMjAlN0IlN0QlMjklM0IlMjAlM0MlMkZzY3JpcHQlM0UlM0MlMkZzcGFuJTNFJTNDJTIxLS0lMjBlbmQlMjBIdWJTcG90JTIwQ2FsbC10by1BY3Rpb24lMjBDb2RlJTIwLS0lM0U=[/vc_raw_js][/vc_column][/vc_row]
WANT TO LEARN MORE?
->> Why you should leverage USPS's international single order shipping service with the help from Boxme?
->> Fast & affordable international single order shipping & dropshipping from Vietnam – is it possible?